Stock Game Resource Packet
Welcome to Personal Finance Lab's Stock Game!
This resource packet has everything you need to successfully use our Stock Game in your class; whether it's remote or in person.
Table of Contents
Logging In
Once you have your account, you can log in directly at personalfinancelab.com – just click "Login" at the top left of the page. Teachers and students use the same button to log in. If you want a link to share on your LMS, you can also take students directly to the login page: https://personalfinancelab.com/login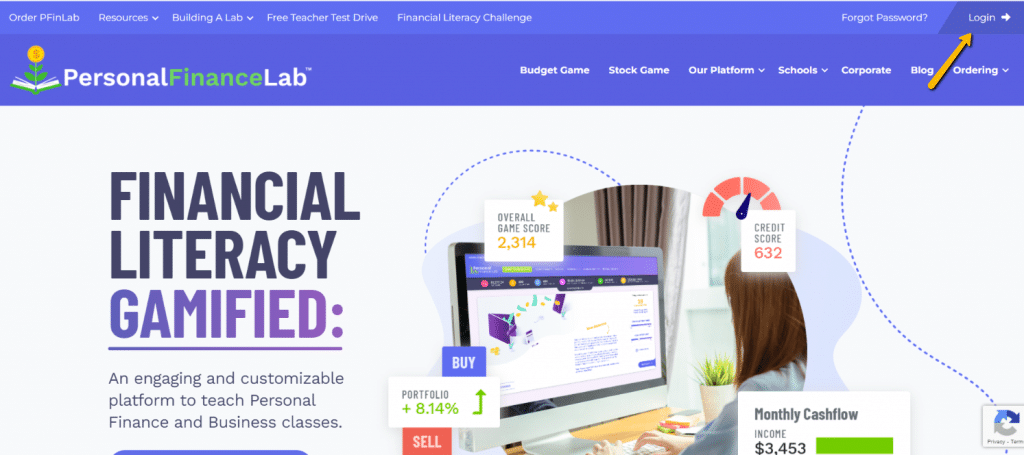 Overview of the Stock Game
Watch this short overview video to learn how to use the virtual trading simulation and the research and quoting tools.
Stock Game Basics
You can choose to have much more than just stocks included in your class, however, to trade any securities go to Stock Game on the main menu and select which trading page you want to open. You must select the security type first to open the right trading page.

If it's your first time on the site, a product tour will launch that will tell you all the main areas on the trading page. Here are the basics to help you get started.
Exchange: By default, the U.S. Stock Exchange is selected from the North American region. You can choose another one by changing the region from the dropdown menu, (if international exchanges are enabled in your session).
Action: Students can choose between; Buy, Sell, Short and Cover, however, most sessions do not allow short selling.
Symbol: Enter the ticker symbol you want to trade. If you don't know the symbol, you can use the Symbol Lookup page. This is available from under the Investment Research tab on the main menu.
Quantity: The amount must always be whole numbers, you cannot enter a fraction or decimal.
Order Type: For simplicity, you and your students may use the default "Market Order" to have your trades execute immediately while the market is open. You can also use Limit Orders, Stop Orders, Trailing Stop $ or Trailing Stop %. To learn more about how to use the different order types, watch our tutorial video Order Types.
Charts: You and your students can use the simple or advanced charting feature to see the price fluctuations over time. Once you've entered the ticker symbol, additional company information will populate below the trading window.
Preview: When you're done entering the trading settings, click "Preview" to see the total cost with commission included. If you like the price, you'll be prompted to enter a trading note. Click "confirm" to execute your order.

We also have a tutorial video on how to trade stocks, that goes through all the steps of placing a trade. Once your students know the basics, they can use our integrated research tools from the Quotes page to get more information on the companies they want to invest in.
How to Research Stocks
To access all the researching and quoting tools, go to the Investing Research dab on the main menu. From here you can see market summary information; like the biggest movers over the last 52 weeks, get detailed financial information on publicly traded companies, research mutual funds or get trading ideas.
If you know a company you'd like to invest in, but you don't know the ticker symbol, click on Symbol Lookup, as shown in the screenshot below.

Once you've entered the company name, you'll have access to the following information about their financial standing.
Company Profile – who is this company and what do they do?
Company News – news feed showing stories mentioning this stock; a great place to look to find out why their price is going up or down.
Analyst Ratings – what is Wall Street saying about this stock? Buy, Sell, or Hold?
Price History – a record of this company's stock price going back to their original listing, with charts.
Financial Statements – Income statements, balance sheets, cash flow statements going back 20 years.
Detailed Quote – more metrics about this stock, like PE ratios, dividend yield, earnings per share, etc.
By clicking through the buttons on the left side panel you can see even more information before placing your trade, or choosing to invest in another company. The trade button beside the search bar will take you back to the trading page with that ticker symbol pre-selected.

Stock Game Tutorial Videos
We recommend your students watch the tutorial videos before getting started since they cover the basics of how to use the trading platform, the research tools and other useful pages like their open positions and transaction history. Depending on what security types are included in the session you're registered to, there may be more advanced videos available to help your students get started.

You can access the tutorial videos from the Stock Game tab on the main menu, or by clicking here.
Student Dashboard
When students log in, they are taken directly to the student dashboard; where they can see widgets for each game and their assignments. If they haven't purchased any stocks yet, they will have some suggestions on the trading page. If they have purchased some stocks, they will see a summary of their current holdings under "My Portfolio". They can close their positions by clicking "Trade" next to the appropriate company name.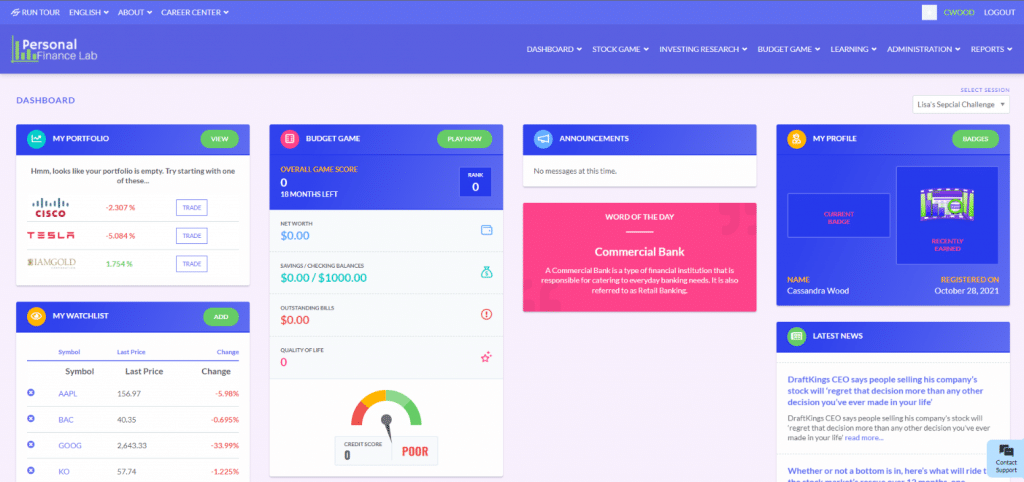 Your Instructor Account
The main difference between your teacher account and a student account is that you have access to an "Instructor Administration" page, that allows you to add more students; and view their progress in the Budget Game, Stock Game and the included assignments.
To access this page, you can click the button in the Top Menu called "Instructor Administration", the "Administration" button from the main menu or this quick link.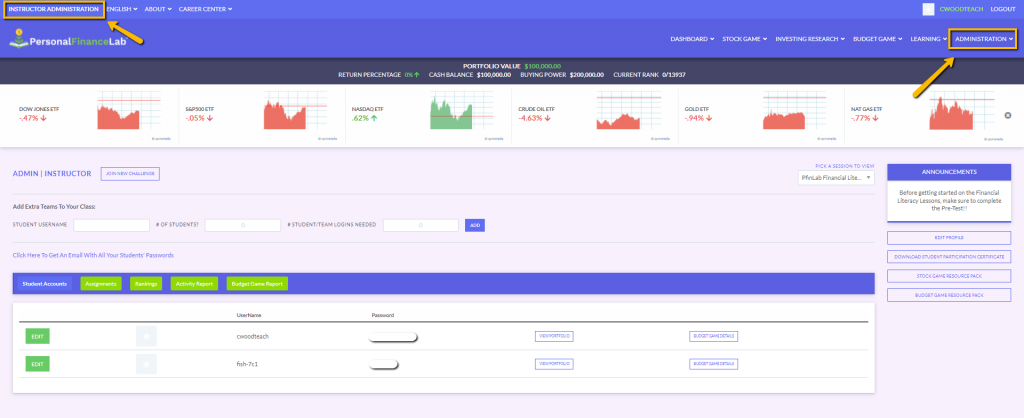 Student Progress and Reports
You can see what your students have been doing on PersonalFinanceLab from your Instructor Admin page. Toggling through the buttons will show you more detailed information on each aspect included in your session. Here is a brief summary of each report available:
Student Accounts: view and update student usernames, view their passwords, click the "View Portfolio" button to see the open positions and transactions in the Stock Game, or click "Budget Game Details" to see the scores and transactions in that game.
Assignments: view the completion percentages and grades for each of your students. Click the "Details" button to see the grades per lesson. Please note that you are not able to assign specific lessons with an Instructor account.
Rankings: will list the rankings of just your class. To see the rankings for all students registered in your session, go to the Rankings page.
Activity Report: please reference the image below. This includes more detailed information about your students' actions in the Stock Game.
Budget Game Report: a more detailed report on your students scores and activity in that game.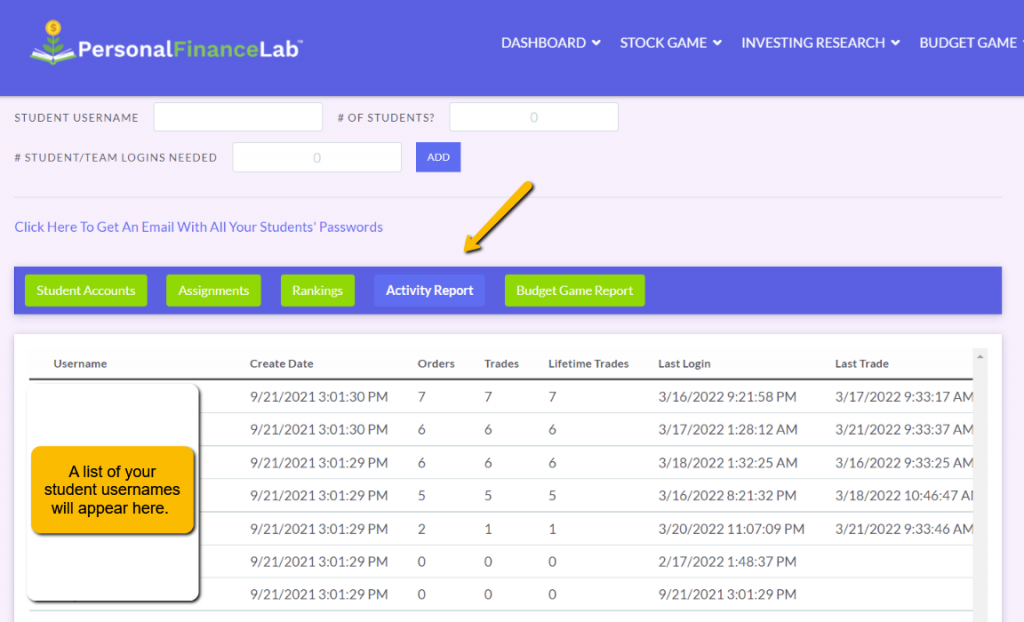 Lesson Plans
You have access to the library of lesson plans that utilizes our full curriculum of assignments. You can access the lesson plans at any time from your Administration dashboard, by clicking "Admin Resources" in the dropdown menu.
Each lesson plan includes a glossary term review, articles and activities from our Learning Center to supplement each concept, and PowerPoint/Google Slide presentations you can use for direct instruction. If you're getting started with the Stock Game, these are some of the highlights you might want to focus on:
Each lesson plan includes slideshows to teach key glossary terms, as well as suggestions for class activities and discussion questions to reinforce all the experiential knowledge acquired in the Budget Game.
Course Outlines
To help you make the most of your class time, we've put together two course outlines that follow Jump$tart Standards. Each has 5 units on Budgeting, Investing, Employment and Income, Credit and Debt and Financial Risks and Insurance. One is for a 9-week course and the other is for an 18-week course. You can access all the teacher and student packets, slideshows and guides from the following links:
We have additional slideshow presentations available from this page Presentations – Personal Finance Lab that you can use to focus on particular subjects like; work vs study, opportunity cost or family planning.
Video Library
We have a huge library of videos tutorials to get students started on the right foot. The tutorials are all "Built In" to the trading platform for students to complete as soon as they start, but feel free to share directly with your class too!