PersonalFinanceLab.com is used by nearly 1,000 teachers each year. In our conversations with many of them throughout the year, we are constantly impressed by their dedication and the many unique and innovative ways to teach students about Personal Finance. Today we celebrate one of our many outstanding teachers. Robert Fredette, a 10th grade Financial Independence teacher.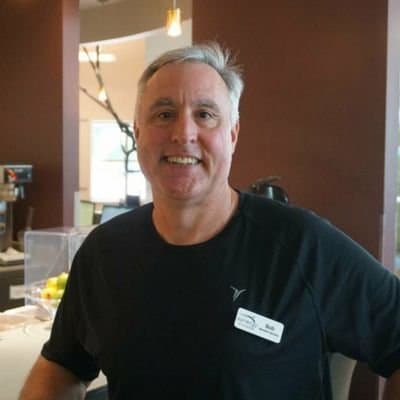 How do you incorporate PersonalFinanceLab into your unique teaching style?
Fredette: "We use it [PersonalFinanceLab] as a primary tool, I use it […] like an evaluation tool of what we've talked about all year long. We set the game up right at the end of the semester. And I usually run it for about 18 months or so. I do like three months of being a student in the game, and then they move to being a full time worker.
And I also look at […] where we're at in the economy, what hourly wages seem like, I go through what rents look like, and try to mirror, at least a little bit of what might be really out there. So we're not taking a test […] what we're doing is, we're experiencing this game. And now the students are explaining the different concepts of money– and what we've talked about– and how they're applying it in the game, what's happening in the game, and how they're feeling about the learning process of the game."
How do you make teaching financial literacy relevant to students' lives today?
Fredette: "I think the 'relevance' part of teaching is really where we connect with kids. For me, it started with doing some simulations with financial independence. And that was good. But it wasn't the Budget Game.
We were able to talk about events that happened in the game. And the online part of our school just went from me teaching, or trying to teach a PowerPoint slide to them interacting with a game, having an experience, and then being able to reflect on it, relate with it, and then communicate and talk about it as a group. And kids had similar experiences sometimes or different ones, and so that they were all able to share. And so it really made our online time really, really, so much better."
How do you grade students on their use of the Budget Game?
Fredette: "At the end [of the semester], they write a paper that addresses things like, 'what ways do you think differently about how to manage your finances?' So things like personal decision making, earning and reporting income, budgeting and savings. And they have to write a summary paper about how they felt after they played the game and took the class."
What is your favourite thing about PersonalFinanceLab?
Fredette: "As I was reading some of these [student reports], […] there are so many times as a teacher, I could stand up and talk about budgeting and save this for that, and don't spend here […] and you know, what really connected with them is this game, this game made that connection more relevant and deeper than me just explaining that to them. […] This has changed their thought process. And that's what I kind of look at when I read their summaries."
Helping students reach a deeper level of financial literacy is our goal at PersonalFinanceLab, and it wouldn't be possible without teachers like Robert Fredette and teachers like you! Click the button below to discover more about our Budget Game, Stock Game and Curriculum. If you would like to join one of our webinars, check our calendar by clicking the button below.