There are several popular stock market games available to high school teachers; but only PersonalFinanceLab.com embeds curriculum specifically aligned to the JumpStart Personal Finance Standards. We supply all the material and lesson plans to offer finance in the classroom.
What is PersonalFinanceLab.com?
At the core of PersonalFinanceLab.com is a customizable stock market game for students that allows teachers to create their own custom experiences.  Teachers create their own stock market contest for each class by choosing the trading period dates, the security types they want to allow their students to trade, the diversification rules, and other trading parameters.  The eligible security types include U.S. stocks, bonds, mutual funds, ETFs, options and even cryptocurrencies.  The trading is in real-time, and students' portfolios and class rankings are updated every minute the markets are open.  The virtual trading technology that powers PersonalFinanceLab.com is from Stock-Trak Inc., the leading provider of educational stock market simulations to the K12 and university markets since 1990.
FINALLY – A Stock Market Game with Built-in Personal Finance Curriculum Aligned To Standards
What makes PersonalFinanceLab.com so unique is that after teachers create their custom stock market contest, they also create their customized assignments by choosing the lessons from the site's library of over 300 built-in lessons, activities, calculators, etc.   These lessons are embedded into the site so that when students login, they see both their stock portfolio performance and their progress through the assigned lessons.  Finally–Students are forced to work thru curriculum as they research and trade stocks!
Personal Finance Curriculum Overview
Teaching Personal Finance is tough, but we have your back. The Personal Finance curriculum built into PersonalFinanceLab.com is focused on the JumpStart standards. All 300 activities are carefully designed to meet both State and National standards, and can be cherry-picked to meet your specific class's learning objectives.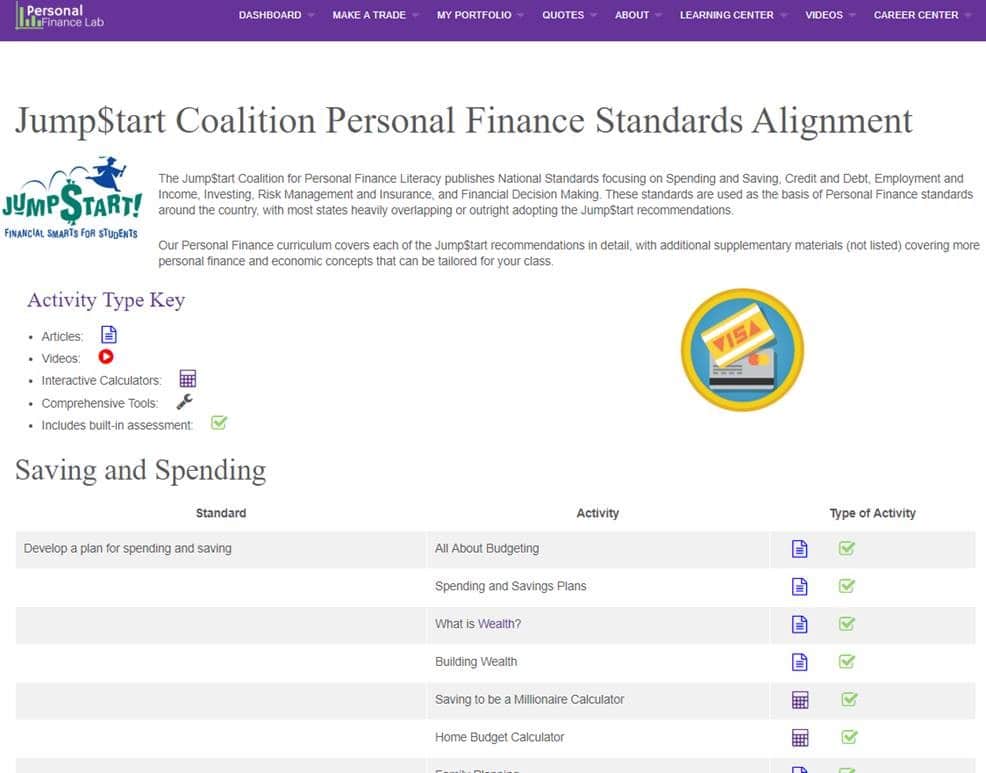 To jumpstart financial literacy, Click Here for the complete lessons and how they align to these standards.
If you have questions about how PersonalFinanceLab.com can jumpstart financial literacy for high school students, feel free to call 1-800-786-8725 9:30 to 5:00 ET.
To request more information, please complete this form:  https://personalfinancelab.com/get-personal-finance-lab/