The PersonalFinanceLab Budgeting Game is an excellent way to get students thinking about money over time – sometimes even TOO engaging. Teachers may set up a game lasting 18 virtual months with the intention for the class to progress through it over the course of 10 weeks, only to find some students moved too far ahead and finished the whole game early.
How can teachers make sure students all keep the same pacing?
Introducing Speed Limits
"Speed Limits" is a setting for a class budgeting game. Setting a Speed Limit controls how many in-game months a student can progress for each week of real-life time.
For example, if you set up your class with a speed limit of "2", it means students can complete up to 2 months of the budget game each week. This is cumulative – so after 2 weeks, students can complete up to 4 months (even if they just started), allowing students who need more time to catch up.
Speed Limits are one of your class Budget Game settings. Speed Limits can be set both when creating your class, or later from the "Edit Session Settings" page under "Administration" in the menu.
If your students progress up to the speed limit, the game will let them know with a warning message: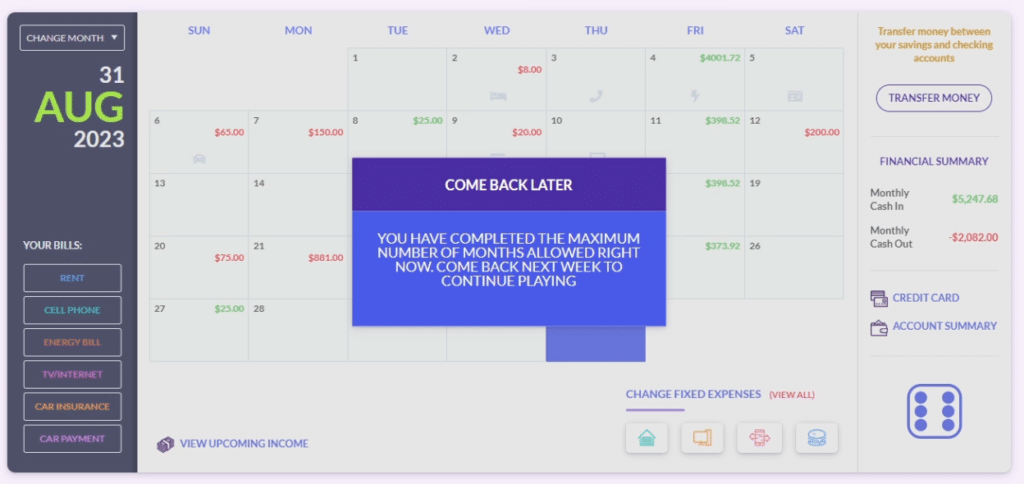 Students who have reached the Speed Limit can instead work on their assignments from the Learning Library, or continue to build their portfolio in the Stock Game while the rest of the class catches up.
We hope this makes it easy to manage your classes, and keep everyone on the right track!
Happy Learning!
-The PFinLab Team