Cost is the biggest barrier preventing teachers from launching their first lab. Getting quotes from vendors, applying for grants, getting administration approval (on top of planning and running your classes!) puts up a huge wall between your students and the awesome financial literacy resources they deserve.
To help break down this barrier, we've put together the ideal "Starter Lab" – the core foundation of every lab that starts with one teacher in one classroom. Every finance lab builds on these foundations – so if you want to launch your Lab this semester, start with these basic elements!
Block 1: PersonalFinanceLab.com License

This is the basics of the basics – both the most important component of any lab, and the fastest to add to your classroom. A "Single Class" site license for PersonalFinanceLab.com covers up to 60 students per year (or 30 per semester) – just enough to launch your lab with a single class. For the first year of your lab, you might need to start small while the rest of the funding comes together, and expand the Lab resources to cover more classes.
We can set up your teacher logins for the PersonalFinanceLab.com platform (giving you complete access to the Budgeting Game, Stock Game, and curriculum library with over 300 self-grading lessons with build-in assessments), class rankings, and investment research tool suite) the same day your school issues a PO (or pays for the license by credit card), making it a fast and easy way to get your students the coolest tool in financial literacy education.
PersonalFinanceLab.com Single-Class Site License
Covers: 60 students/year
Cost: $895 / year
Perfect For: Small schools with small classes, or "Trial Runs" with a single class
PersonalFinanceLab.com Micro Site License
Covers: 100 students/year
Cost: $1,495 / year
Perfect For: Smaller schools with one or two teachers teaching financial literacy and business
PersonalFinanceLab.com Mini Site License
Covers: 250 students / year
Cost: $2995 / year
Perfect For: Medium schools with multiple economics, personal finance, and business classes
PersonalFinanceLab.com Individual Accounts
Cost: $15 / Student
Perfect For: Smaller schools and pilot programs
If you want to launch your lab quickly and cheaply this semester, you can't go wrong with the Single Class license, and upgrade once more funds become available.
Learn More about the PersonalFinanceLab budget game, stock game and curriculum!
Or Order Now!
---
Block 2: Educational Posters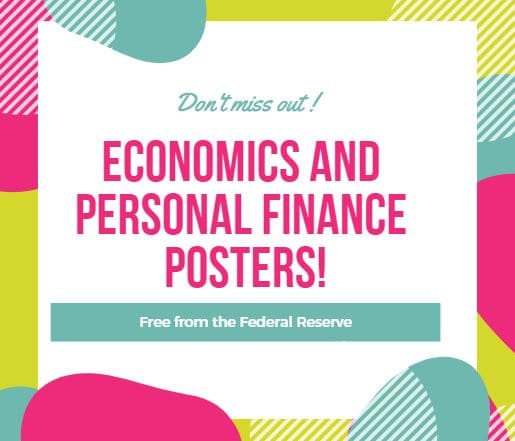 Educational Personal Finance and Economics posters are an awesome way to spice up your classroom, and the first step in its transformation into a Finance Lab. Best of all, the best posters are free for schools thanks to the Federal Reserve in Atlanta!
There are over 15 different posters to choose from – pick which ones you like, and they will ship directly to your school, free of charge. These posters are a free (and super easy) way to "Set the mood" of your classroom – making it one of the fundamental building blocks of a Lab.
Click Here To Order Your Posters
---
Block 3: Transform A TV Into A MarketBoard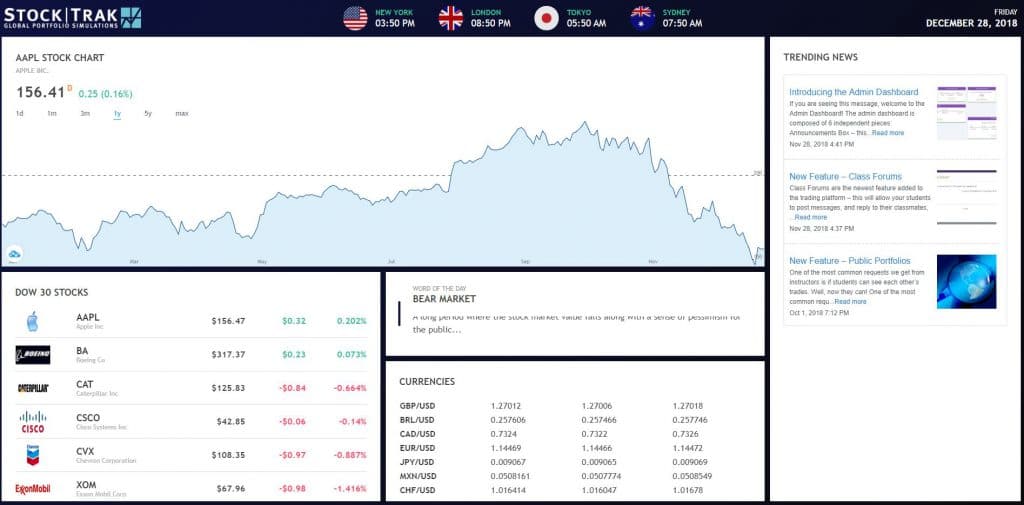 The biggest eye-catching pieces of any Lab is the hardware. This is what really brings the room to life, turning an old classroom into the most popular room at your school.
A "MarketBoard" display is a screen in your room that cycles between several "Widgets", including Financial News, Glossary "Terms of the Day", Quotes and Charts from the stock markets, and the class rankings from the investing simulation (part of PersonalFinanceLab.com).
Many schools with large grants available will order multiple purpose-built display screens, along with LED tickers. However, to get your lab set up quickly (and cost-effectively), you can also use an existing TV at your school, and upgrade it into a MarketBoard with a simple add-on that plugs into any HDMI port.
Upgrading your existing TV into a MarketBoard just needs the add-on stick ($99 on Amazon), plus a $360 / year Financial Widget pack (this pack covers up to 3 screens, which makes it easy to upgrade your lab as more funds become available).
Cost to upgrade your TV: $99 add-on + $360 / year Widget Bundle = $459 total
Set-Up Time: 3-5 Business Days for the add-on to arrive, plus time for your school to install the screen at your school
---
Putting It All Together
All in, you can launch your Lab in less than 2 weeks for 60 students for an all-in cost of $1,255 – one of the best investments your school can make!
Request More Information
[contact-form-7 id="17211″]